Healing Touch by Suzanne
Relax... Restore... Rejuvenate...
In person appointments are not yet available.
WHAT IS HEALING TOUCH?
Healing Touch is an energy therapy where practitioners use their hands in a heart-centered and intentional manner to support and facilitate physical, emotional, mental and spiritual health and healing. Healing Touch is a complementary (or integrative) energy therapy that can be used in conjunction with conventional therapies.
Healing Touch utilizes the hands to clear and energize the human energy systems allowing balance and harmony to be restored to the mind, body and spirit. This modality increases wellness by providing the body an opportunity to heal itself.
What Happens in a Healing Touch Session
The first session normally takes 75 minutes, with follow-up appointments lasting about 1 hour. Clients are asked to fill out an initial intake assessment form, which covers some medical and lifestyle questions. The goals are set based on the client's personal needs.
Generally, the session takes place on a massage table, with the client fully clothed. (Appointments can be given with clients in wheelchairs, etc.) An energetic assessment is taken and some additional questions may be asked of the client at that time. This assessment, together with the information from the intact discussion, dictates which techniques will benefit the client's own healing process for that particular session.
Energy System Balancing and Healing
Healing Touch techniques allow healing of the energy systems of the body by clearing and balancing the bio-field.  Healing Touch and other energy-based therapies such as acupressure, Reiki, reflexology, and therapeutic touch use the concept of field theory that states that our being does not stop at the skin. Our body is an open system that experiences input, throughput, and output of energy.  Different energy centers hold our body's history. 

The following are factors that can negatively affect your energy field:
Smoking
Traffic
Arguments
Lack of sleep
Stress at work or home
Sedentary lifestyle
Surgery
Chemotherapy/Radiation
Medications
Stimulants
Junk food
Emotions
Relationships/Support
The Healing Touch Procedure
Suzanne will hand scan above the body to distinguish any imbalances in the energy system and flow.  Based on this understanding, the practitioner uses their hands to influence the human energy field and affect the physical, emotional, mental, and spiritual aspects of the client.  Thereby the time and space is provided for self healing.  Clients find that they can Relax…Restore…Rejuvenate during the process.
Although each appointment is unique, after a session, clients report feeling deep relaxation or desired emotional shifts and increased clarity.   
"Sessions with Suzanne make me feel serene and relaxed.  Since beginning Healing Touch, I've noticed a progressive reduction in pain and more restful sleep." Bridget G.
"After my first session, I felt "complete" and restfulness not experienced through massage or facials." Mimi D.
What is reflexology? Reflexology is the application of pressure to the feet and hands to certain points (reflexes). These reflex areas correspond to glands, organs and systems of the body. It is thought that massaging the reflexes especially on the feet can reduce tension all over the body.
How it helps? The goal of reflexology is to bring the body back into a place of self-healing or balance. Reducing tension and increasing relaxation in the body can help normalize body functions. It is thought that reflexology helps cleanse and detoxify the body. Each foot has 7000 nerve endings so reflexology is deeply comforting. Often clients fall asleep during the session because they are so deeply relaxed.
Benefits of Reflexology? Reflexology induces relaxation and relieves tension by stimulating the parasympathetic nervous system the body. Circulation is improved, blood pressure is balanced and the person is calmer and more peaceful. Digestive disorders, pain, anxiety and insomnia could be ameliorated. Many benefits are similar to receiving massage. Since most illnesses have their origin in chronic stress, a session could give benefit for a range of conditions.
What to expect in a session? This modality is non-invasive and comfortable to receive. A brief discussion of your medical history will be conducted. Certain conditions are contraindicated for this modality. If you have fungal infection (athlete's foot), open wounds, bruising disorder, clots/risk of thrombosis, fever, please wait until you have doctor's clearance to receive reflexology. If you are pregnant, you should let your practitioner know so that every caution is taken
You will lay fully clothed on a massage table or zero gravity chair while your feet are cleansed. Then your feet and in some instances, hands will have the reflex points stimulated by pressure from the practitioner's hands.
Suzanne Weeks, CHTP/I, B.A. is a Certified Healing Touch Practitioner and Instructor in San Diego California who began her training in La Jolla at Scripps Center for Integrative Medicine. She has a Bachelor's degree from U.C. San Diego in Microbiology. She worked for fifteen years in scientific pharmaceutical research and five years as a Certified Person in Food Safety. Suzanne completed her Integrative Nutrition Certificate from U.C. San Diego in June 2018. Suzanne is focused on assisting clients with Healing Touch, lifestyle change and integrative nutrition.
In 2007, I had a heart event and did not find the answers in the traditional Western model of medicine. I began looking for solutions other than taking daily prescription medication for the rest of my life. The underlying cause of this healing crisis was not apparent to me or my physicians since I did not fit into any readily accessible risk group. My healing journey led me to seek out physicians who embrace holistic health principles. After completing the lifestyle change program at Scripps Center for Integrative Medicine, "I realized that I needed to focus on the physical, emotional, mental and spiritual aspects of life in order to maintain optimum wellness."
Healing Touch as a modality supported my wellness goals. In 2008, I became a Certified Healing Touch Practitioner (CHTP) followed by becoming a Certified Healing Touch Instructor (CHTI) in 2011. In addition to teaching Healing Touch, I have over twenty years' teaching in the areas of wellness, food safety, integrative nutrition, management, marketing, scientific research and scuba diving. I have been a PADI Instructor (OWSI) for U.C.San Diego Recreation since 1994 certifying over 245 scuba divers.
Teaching allows me to deepen my knowledge and share my passion with others. Offering Healing Touch to clients and students allows me to share my insight and experience helping others find a balanced path to health and healing.
Contact Suzanne for information on next class date.
17.5 CEUs for nurses, massage therapists, and chaplains.
---
*Formerly Healing Touch Level 2
U.S. Dept. of Veterans Affairs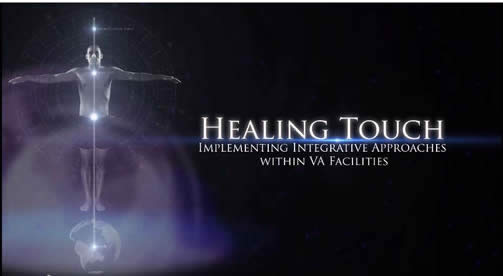 ---