Healing Touch by Suzanne
Relax... Restore... Rejuvenate...
What Clients are Saying about
Healing Touch by Suzanne
---
"My experience with Healing Touch was wonderful. Suzanne is able to put me completely at ease and bring my mind and body into the present moment. At first I found it so odd that I could feel her, but when I opened my eyes and peeked she was actually 2 feet away from me just moving energy. The final affect after clearing all of the energy and aligning chakras was more relaxing and the effects are longer lasting than any touch massage I have received."
-Mary S.
"I am a work in progress and find that healing touch appears to be a helpful component in the choices I have made to my healthcare. Working with Suzanne has been a positive experience. She promotes a positive approach to healthcare and has great intuition. She works with you as your team member. I found if I work with healing touch, it allows me to enter into deep relaxation which opens the path to healing."
-Leslie F
"After suffering from severe back pain for nine months Suzanne was able to greatly reduce my pain in just a few sessions. As well as relieving my physical pain, Suzanne was able to help me release some of the emotional pain I had been carrying with me for years. I feel more balanced, peaceful and happier than I have ever been!"
-Joyce
"After suffering from severe back pain for nine months Suzanne was able to greatly reduce my pain in just a few sessions. As well as relieving my physical pain, Suzanne was able to help me release some of the emotional pain I had been carrying with me for years. I feel more balanced, peaceful and happier than I have ever been!"
-Kate
"Healing Touch with Suzanne is an amazing spirit awakening experience. Suzanne has taught me to feel the energy of my body and listen to the whispers of my soul...to let go of the things that are not serving me for the greater good. With each visit, I feel more and more grounded...like I am finally beginning to walk down the path that I am supposed to walk.-"
-Whitney
"I had a total knee replacement on 4 weeks ago and had called on all my knowledge for healing and health. In addition to guided imagery, homeopathy, yoga and biofeedback, I had a Healing Touch treatments before and after surgery. The day of surgery I was calm, stress free and surrounded by positive energy. By removing energy blocks I believe she was instrumental in my having a successful total knee replacement. I had no bruising during or after surgery and the incision is beautiful and her "scar work" on the knee incision was astonishing. I have been pain free with only mild discomfort in my leg. I have over 110 degrees of flexion, amazing strength and increased mobility in my knee. According to my surgeon and physical therapist, I am ahead of others patients at this time post surgery. Suzanne has facilitated a state of relaxation and enhanced my healing process. Suzanne is a true healer. Her healing touch combines a variety of techniques suited to the individual's needs. The depth of her knowledge combined with her intuitive sense of just what is needed makes her an amazing coach and healer."
-Jayne
"Healing Touch is such a personal therapy, and with Suzanne, I find an immediate therapeutic connection. After my sessions, I feel energy glowing from inside, and any headaches or stress I had been focused on seems washed away. But some of the most important elements of her treatment is the input and dialogue between us that re-centers me and focuses me on my responsibility to care for myself in the interim. She is a wealth of valuable insight for me, and a very strong role model for all who would seek to maintain a healthier lifestyle. Until you actually have a session for Healing Touch, you cannot know how it works for you. Suzanne is amazing for me."
-Nancy
"After my first treatment I left the table feeling relaxed, renewed and pain free. Suzanne's grasp of anatomy coupled with a strong intuition and passion for healing and helping others allows Suzanne to address the client's physical and emotional needs. Six months after my first treatment I had an appointment with my endocrinologist, who treats me for hypothyroid disease. He was amazed he had to adjust my medication. I have been on the same dose of medication for the past 48 years. Bonus, my thyroid gland is producing and I am on half the dose of medication, which I believe is a result of Healing Touch."
-Jayne
"Healing Touch is a sacred healing journey. It is a deep comfort to be on the journey with a wise and gifted guide like Suzanne. "
-Andy
"Suzanne's work is a very important part of the healing puzzle. Healing Touch fills in the pieces where acupuncture leaves off, massage may never get to, Reiki may not touch, and other modalities only claim to make a difference. Her work is an oasis in a challenging world. Her broad base of knowledge and skill has significantly helped me on my road back to health and vitality. I am so grateful to be working with Suzanne "
-Lynne
"Suzanne has a rare and profound talent to help people deal with everything from pain issues to emotional issues. Suzanne helped me recover from surgery to the point that I did not even need to take pain medication. I had sessions with Suzanne before and after my surgery, which helped me tremendously, she is amazing! I am so confident in her abilities that I have recommended her to all of my friends and other Doctors as well."
"Getting sick and being unhealthy is expensive, but staying healthy and learning how to stay that way is not. I look forward to my appointments with Suzanne knowing this is a way of life and time well spent. My husband, kids, and my patients directly benefit from the relaxation techniques that Suzanne has taught me. The relaxation skills Suzanne has taught me makes me a better mom and I have enjoyed a better nights sleep and find it easier to deal with some of life's little challenges!!! "
-Dr. Christine Falkosky
"During a long recovery from a leg injury, I met Suzanne and made an appointment. She kick started my true recovery, by awakening the senses of my body and soul. I am truly grateful."
-Michelle M.
"I love it every time I get to work on my healing process with Suzanne. She has taught me so much. I feel a touch of freedom when I leave as if I am able to conquer the world."
-Jodi B.
"Suzanne helped me to get in touch with my inner being which helps me to lead a more balanced life with a greater sense of self-awareness."
-Betsy
"I feel that I can find the right tools to bring balance into my life. It has been a great experience. I am doing something for me."
-
"Emotionally-calm, Physically-rested, Mentally-at ease, Spiritually-at peace. Never even heard of it until 15 minutes ago. Speechless! (in a good way). Extremely relaxed feel 'at peace'"
-
"After just one session with Suzanne, I was able to relax & breathe better, sleep through the night more completely, and have a much improved awareness of my needs & a sense of well-being"
-Laura P.
"I want to thank you for the session you gave me. Since then, I see incredible results. Since you did "repairs" on my abdominal scar, I feel like a new guy. I have experienced a rapid increase in my energy level and I don't feel devastated at the end of the day like I used to. Now that I feel better, I could back track all the way to the surgery I had those 14 years ago and I realized that since then, I was never the same until the day you worked with me. I am very grateful for what you did with me. I would love to come and receive some of your healing touch again"
-Andre
"Suzanne's Healing Touch work is compassionate, kind, and extremely effective. She is deeply committed to the alleviation of suffering. Her medicine bag is full."
-Walter
"I think most importantly my work with Suzanne has brought an acute awareness of the importance of taking care of myself and paying attention to my "reactions" to my current life challenges. I really value Suzanne's work. She has amazing gifts and I am so glad to know her."
-Laura W.

"Treatments with Suzanne make me feel serene and relaxed. Since beginning Healing Touch, I've noticed a progressive reduction in pain and more restful sleep."
-Bridget
"The overall experience is relaxing and the pain relief is amazing. I feel 100% better after a session with Suzanne. Healing Touch by Suzanne is a vital part of my wellness plan."
-Jody K.
"I cherish the time I have with Suzanne. She has beautiful, loving, healing energy and has helped me a great deal."
-Tammy
"I used to have a lot of trouble falling asleep. My "brain chatter" kept me up for several hours. After my sessions with Suzanne I began to sleep more soundly and have felt better and functioned better during the day."
-Chelsea

"I am amazed how a few minutes of Healing Touch can make such a difference in how I feel."
-Eva

"Healing Touch with Suzanne is a wonderful experience. It is extremely relaxing and I feel very good after receiving the session."
-Karla

"When I first met Suzanne and we spoke about her work with Healing Touch, I was extremely skeptical. After the first session, I was amazed at how much less pain I had in my knees. I see Suzanne monthly to support my own wellness and to decrease my use of pain medication."
-Mina
"I have called on Suzanne several times when I was in need of compassionate care. She is always there to offer her gifts of healing and wisdom, for which I am most grateful!"
-Leslie
"I love working with Suzanne to ensure my mind/body connection is balanced. She is an amazing healer! I always feel like a new person afterwards and look forward to my next Healing Touch Session. "
-Michelle H.
"Suzanne has an incredible sense of peace, which she transfers through her touch and gives you time with unconditional calm and secure energy. I was so relaxed; I drifted off to sleep and awoke an hour later, which seemds like minutes, refreshed and at peace."
-Jan
"After my session with Suzanne, mentally I felt more clear and spiritually more calm and aware of myself. I had a sense of having put my values back in order to realize what is important to me."
-Katie
Contact Suzanne for information on next class date.
17.5 CEUs for nurses, massage therapists, and chaplains.
---
*Formerly Healing Touch Level 2
U.S. Dept. of Veterans Affairs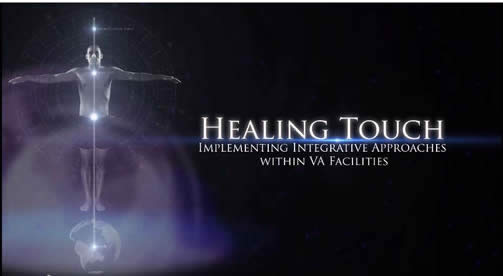 ---